Furie gets distracted from its own potential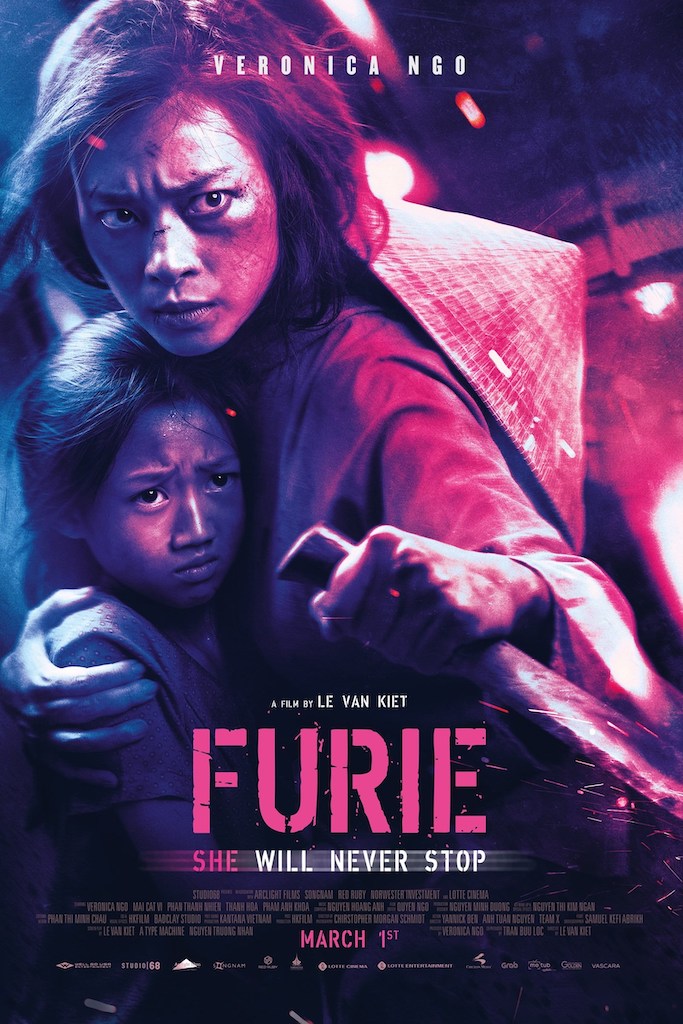 For a brief moment, the Vietnamese action-drama Furie promises to create something different: a criminal underbelly where vovinam-fighting women control crime syndicates while followed by faceless, ineffectual henchmen who only act as cannon fodder.
It mostly, sort of, delivers on that promise, but only in the most half-assed of fashions, while quickly defaulting to more standard setups.
Ngô Thanh Vân stars as Hai Phuong, who we meet in some village in the middle of nowhere, beating a guy with a brick for a $100 debt. The introduction establishes that she's tough, but not invincible (there's an assignment that she has to escape), nor heartless (she doesn't hit her quota for the day because she gives some people a chance). We also learn she doesn't do this out of greed, but to support her 10-year-old daughter Mai, barely, buying $0.10 worth of food at a time in the market to cook on their crumbling river-side shack. She tries to avoid unnecessary fights, hiding when a drunk comes by to scream at her instead of chopping him up for bait. She is mostly trying to keep to herself, ensuring her kid stays in school, focuses on her studies, and has more options than Hai Phuong ever did.
Until a day when, after she gets distracted at a local market, some people kidnap Mai and flee to Saigon.
This happens at exactly the 30-minute mark. It's the first sign that we have been #sydfielded once again. The movie will then follow her around Saigon, reaching out to old contacts (who can't help), tracking down the people who took her daughter. She learns that she is in a race against time, and has only hours before her kidnappers butcher Mai her organs (because of course she stumbles upon a massive, well-organized organ trafficking ring around 60 minutes in).
Using a known structure of well-established beats is not a problem in and of itself. The Invitation made it work. What matters, though, is what you do between the beats. And Furie doesn't do nearly enough.
While it adds some autochthonous flavor during its first 30 minutes, Furie quickly forgets about it. For the rest of its run, it is content with biding its time until the next beat, cramming whatever filler it can find on the gaps. Some of this works, like her attempt to reconnect with an old colleague at a club. However, most fall on the category of "add disposable family melodrama, so people are free to go pee before the climax." It's not filler; it's background information!
It is the laziest portrayal of organ trafficking, by the way. The one where the kidnappers cram children into a train for transfer into some dismantling facility. Let's disregard the fact that you can't keep organs around on the freezer for later use like ground beef, nor sell them to the first rando who shows up as if we were all compatible. The movie already established in its first 30 minutes that kidnappers can move kids between cities just fine by using the public bus system. Why have an elaborate network to ship them around by train in bulk, which requires you to avoid authorities at every stop? Why not just use the public bus system, as they did earlier, or rent their own minibus and move them a few at a time?
Because you can't have a climatic showdown inside a minibus, dummy.
Fridge logic would be forgivable if the movie had stuck to its guns and remained centered on killer women, from Hai Phuong, to her boss in the village, to the various ladies managing otherwise shady enterprises in Saigon. But the movie introduces a handsome male cop, who initially seems just going to be an ineffectual foil. Instead, he keeps swooping in at the last minute, looking cool, acting as if he's saving the day. After Hai Phuong has already both done all the research and knocked out 99% of the opposition. And the movie plays this with a straight face.
Or it would be something you handwave if the action is spectacular. But while it has its moments, the camera is often too close to the players, and there are only two scenes where the choreography surprises you.
Furie was what it took for me to appreciate The Raid II's "more is more" excesses. Gareth Evans benefitted from directing a sequel to an already successful film, but both Raid movies brought a clear intent to surprise the viewer that Furie could have used. Instead, it's content with sticking to tired structures and being a lower-budget distaff Ajeossi, without any of Bin Won's charm or style.