Yakuza 0 flips between gleeful and sluggish
Yakuza 0 is a prequel to Yakuza, the silly action-adventure fighting game that introduced us to Kyriu Kazuma, the granite gangster with a soft, mushy center. On Yakuza 0, we spend our time alternating between two parallel stories. As Kyriu Kazuma, we spend our time in Kamurocho, out to clear Kyriu's name of a murder he didn't commit while staving off a conspiracy that threatens his mentor. As Majima Goro, Kyriu's deranged frenemy from the first game, we are trapped in Sotenbori (which is to Osaka's Dōtonbori as Kamurocho is to Tokyo's Kabukicho), slaving at building someone else a fortune before getting dragged into a conspiracy around a blind girl.
It would be a much better game if it had less Kyriu in it.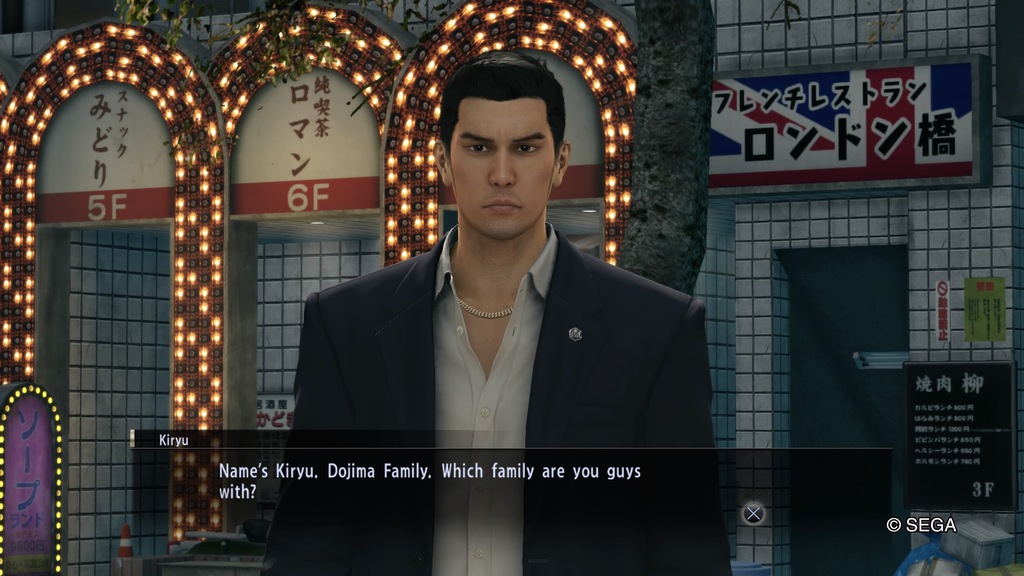 Kyriu Kazuma is a lunkhead, an unimaginative bore who can mostly punch and kick his way through things. Yakuza: Kiwami works both because and in spite of it. The game is populated with absurd situations, like Kyriu teaching kids a lesson on friendship right after he punched his way through an entire building of thugs, Majima coming out of manholes or staging a zombie outbreak just to keep you on your toes, or attack helicopters trying to kill a kid. Kyriu approaches every one of these situations with the same solemnity, unaware of the level of absurdity going on around him. We are laughing at the preposterous side quests and farcical events, but we're also laughing at Kyriu, our own avatar, for taking them seriously.
Yakuza: Kiwami had its share of issues, but its sheer level of absurd fun made it easy to overlook them. It was the right kind of stupid.
Try as I might, I can't wring out the same fun out of Yakuza 0. All the pieces are there, but they don't just fit together in the same way. It's nowhere nearly as delirious.
Let me get this out of the way first and say that the story is part of the problem. Yakuza reveled in its absurdity. Even without the well-balanced gameplay (and there were a couple of sections that were less than stellar), you could derive a lot of fun out of the way the story kept trying to one-up its own barking madness.
Yakuza: 0's story is much more grounded, and seems to be trying to skew closer to Takeshi Kitano than Takashii Miike. The side quests and activities, though, keep being as juvenile as in the original game.
It's a surprise to find out that they share the same writer and producer, because it gives the impression that whomever assembled this one didn't realize what made the previous construction work.
If you mix toy car racing with melodramatic government-spanning conspiracies worthy of Oliver Stone writing a soap opera, you'll get belly laughs; but if you expect me to chase gravure phone cards after hearing how Demetrius and Chiron went to work on Lavinia, all you're going to get is dissonance.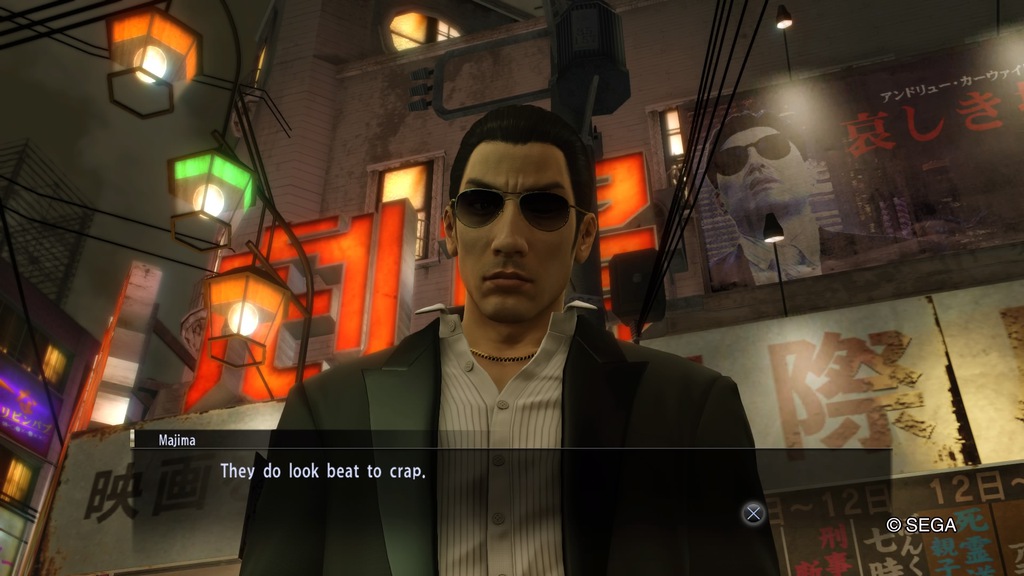 Such a dramatic back story, full of tortured pasts and murdered friends would have worked, if Majima was the protagonist. The game has us play a more centered Majima Goro than the batshit insane knife-demon from the first game, the man capable of crashing a truck into a brothel just to have another go at fighting Kyriu. It's a side of him we haven't seen before.
This more calculating, younger Majima would have been a great vehicle for a dramatic story, with some funny ancillary elements. We know that he was tortured. We know he'll end up turning into some half-crazy half-playful lunatic. We know he has a story arc coming.
Kyriu, though, is just Kyriu. There are only two differences between him here and in the rest of the series: his tattoo is not complete yet, and he hasn't sorted his perma-wardrobe. There's nowhere for the character to go, nothing they can do with him other than have him punch out people for a different reason than he did before. And who was the genius who added another quick-time highway shootout to this?
The worst thing is that it's not a bad game. It's a good one, even, but you can see a great Yakuza game in there, if they'd only committed. The funny moments still work. Kyriu not only Bogarting Nishiki's golden lighter, but commandeering his car in the middle of a theatrical, overblown exchange, without anyone commenting on it. The Complete Dominations. The chicken. There were parts where I laughed out when they happened, then chuckled every so often later when I remembered them.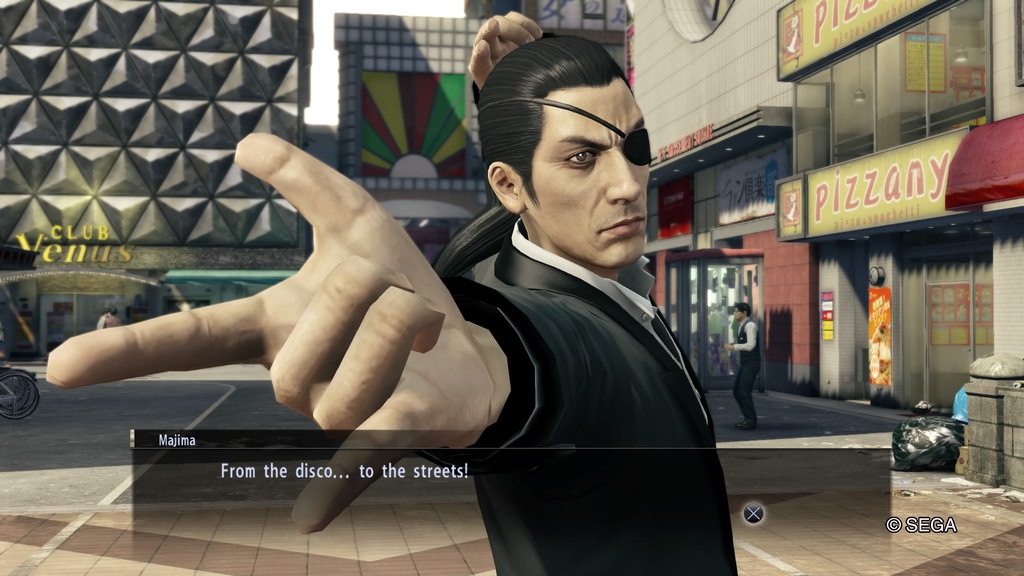 But the side quest design is not as imaginative as in Yakuza Kiwami. There are some funny people you encounter, but most situations resolve immediately – there is barely any surprise in them, a sense that you'll meet these people later.
The minigames, which soon become tedious but are almost required for progress, are what detracts the most from it. You spend too long grinding, trying to get money to actually increase your stats, to unlock the ultimate fighting styles. Once you reach those, the attached activities stop being a way to meet people, and become conversation trees that you're forced to sit through.
Majima's story gets the short end of the back-and-forth stick, which pulls the rug from under characters with who we could have spent more time. A potential antagonist and mentor, who I was sure was going to have an impact on Majima's personality. A moment, where you walk with someone through Kamurocho, which carries more tenderness than anything Kyriu did with the goddammed baby on Yakuza 6. People who we meet, and start to know, only to have them brushed away so that we can switch back to the lunkhead.
Kyriu doesn't need much of a story. He is nothing but a human wrecking ball, and if you want to keep this as a melodramatic action comedy, he is the perfect choice. But if you are going to put this much work into humanizing Majima Goro, the Mad Dog Of Shimano, you should stick with it until the job is done.