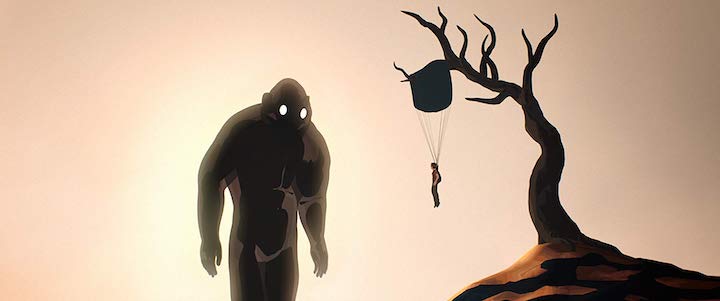 A boy wakes up on a desert, hanging above the sand, his parachute caught on a tree. A translucent hominid, empty white eyes set on a meters-tall inky body, approaches and engulfs the boy. It transports him to a hopeless, pulsating void, which he barely escapes from by unhooking his parachute and running away.
The creature follows.
That's about the first 2 minutes of Gints Zilbalodis' animated feature film Away, a dream-like chronicle of the boy's attempts to outrun the ruiner who pursues him. It's an emotional story, told solely through movement and sound, without a single line of dialogue.
It is Zilbalodis' movie. He animated, scored, and wrote it, creating it on his laptop on a micro-budget across three years. He didn't write a script for it: he only created an outline and went from there to setting up scenes, characters, playing with things in real-time, finding the movie in the process. He wanted to start directing, and didn't think the industry would let him get there until he had climbed the ladder and was in his 30s or 40s, so instead he went off and did it himself.
It's not only an emotional movie but a lesson on using your limitations to your advantage.
Physics take a while to calculate and render, so they would have slowed Zilbalodis' process down. Hence, no physics. The boy runs with a frictionless quality, a rock skipping across a surface is animated by hand, a motorcycle skids across the land, all lending the movie even more of a dream-like quality.
Models take time to create, so he duplicates a clutter of cats, uses the same animation loop. The obsidian felines come across as possessing a mechanical whimsy, not unlike Mononoke's kodamas.
Nobody would trust him with a budget for a feature film, so he instead got funding for four shorts. All come together in the four parts of his movie, creating distinct sections of the story. When he was done with the fourth he realized the first one wasn't as good, so he re-did it, but could create this do-over in isolation.
Away invites comparisons to Miyazaki, which Zilbalodis is happy to name as his influence, but in actuality comes across as more like a collaboration between Fumito Ueda and Makoto Shinkai. Its environments, its tactile light, its emotional connection, all brought together by a single person, are a reminder that when someone talks about "democratizing creativity", they are trying to sell you something.
If you want to create, right now, you can. The tools are out there. You just need to grab them and let the process consume you.
Ride that road until you reach its end, then turn around, start again.