Contains minor spoilers for secondary characters.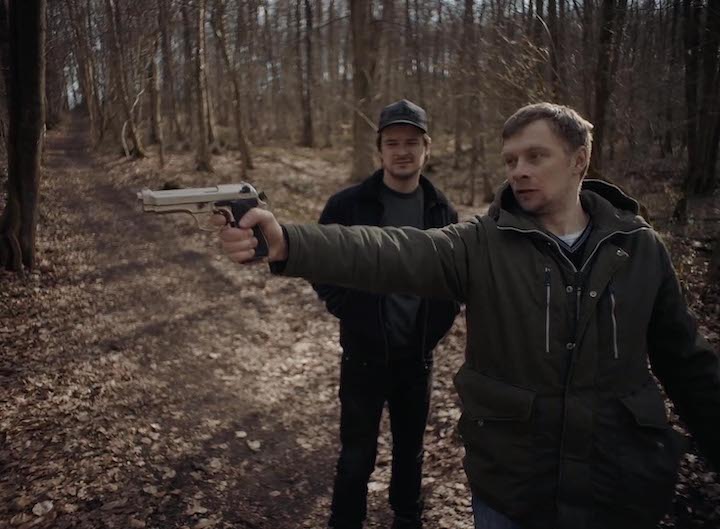 Oleg, the second feature by Latvian filmmaker Juris Kursietis, is a mixed bag of sensational performances and problematic elements.
Valentin Novopolskij plays the eponymous Oleg, a timid butcher from Riga who travels to Ghent, Belgium, looking for higher wages. It's not just a chance for a better life – we learn early on that he has debts to some people back home who are not above aggressive collection.
It's a tough job but it pays cash. It doesn't last.
Oleg gets fired when he gets blamed for an accident by a lying co-worker. He can't even get a new job, since his work permit is attached to the current company. He gets a lucky break when he meets Andrzej, a charming young Polish who promises that he will not only get him a job but his own room and – if that wasn't enough – an EU passport.
Uh-huh.
It doesn't take too long for that to go south. Andrzej is the very definition of superficial charm, a violent psychopath bubbling just below the skin, spilling out at random intervals. Dawid Ogrodnik plays him while avoiding most of the cliches of suave behavior that have plagued filmmaking since Anthony Hopkins won an Oscar. Ogrodnik's Andrzej is not a cold mastermind – he is little but a vicious little creature with low impulse control, looking for the next petty scheme. Oleg isn't a key piece on Andrzej's plans – it isn't even clear if he does have a plan.
The interactions between the two of them, and the way things develop, make the story feel organic. It avoids some narrative clichés (although I won't go into which), makes small moments compound, things flow more or less realistically.
Its internal politics, though, are nowhere near as well thought out.
Lithuanians come across as thick. Romanians steal from their workplace and sell it on the blackmarket. Polish characters range from drunken lying slobs to volatile psychopaths. There are two female characters that get any amount of screen time, and neither comes out well. The first is a shallow, older woman who is happy to fuck Oleg while she thinks he's an actor, but horrified when he isn't. The second is a younger girl who is introduced doing her nails, and whose character arc is from enabling a criminal, to victim, to attempting to use and seduce Oleg, to prostitution. Only Latvian men come across as capable of holding an honest job or doing something other than running scams (a genius theater director).
Even with all that, its main issue is Oleg himself.
We never learn why Oleg is deeply in debt. There's an argument that we don't need to, if we take it only as a motivator, but it would tell us something about this shapeless lump of clay: Is he gullible and was conned into a raw deal? Did his appetite for risk taking burn him, which is why he is now so passive? Is he just terrible at making choices?
This is compounded by his passivity. Oleg only makes one single active choice during the first 95% of the movie, a clumsy but opportune attempt at escaping his situation... and then his next immediate decision wastes it, causing just enough of a delay so that the script can push him back to his captors. While his inaction during key points could be in character – and we don't need every male lead to be a hero – this feels like lazy writing. Oleg has made a choice, has come up with a plan, and then he fumbles it in a writer-mandated way because otherwise the film would end half an hour earlier.
You need to feel that Oleg is trapped by circumstances. You need to see the light coming in through the cell door, and want him to reach for it, then it be snatched away. The movie never gives you that.
Decisions, no matter how big or small, are the what draws the line between timid and bland. Oleg, the man, ends up on the wrong side of that line, and in doing so it only helps highlight how the film portrays everyone else around him.
And then the ice cracks beneath its feet.