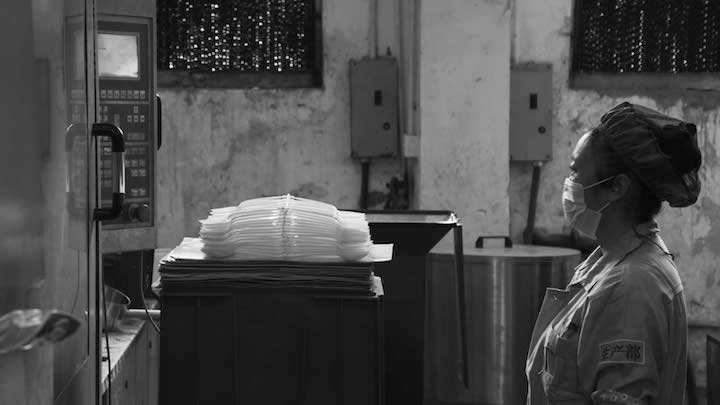 Spoon opens with a black and white shot, a sign of things to come. An enormous industrial machine fills the screen. A few thick pipes flow out of it. A woman sits to the side, near a comparably small control panel. A few people scamper around, nervously trying to get out of the frame. A pulsating electronic soundtrack mixes with what we can only assume are noises from the machine. After a while, the woman reaches up to the control panel, right below the SAMSUNG sign, and taps the touchscreen while turning to the camera.
This has taken two minutes. The scene changes to a different environment. Lingers. Changes. And again. And again.
It will be another 47 minutes before we get something other than a wide shot of some unexplained location.
Spoon is a documentary by Laila Pakalnina, tracking all the moving parts involved in the creation of the disposable plasticware we think so little of.
Nobody narrates or describes what is going on. The film doesn't overtly pass judgement, but for the longest time, it isn't clear what there is to judge. It merely documents ships from Russia and the Netherlands, factories and materials from China and who knows where, excavation sites all over the world, trucks, industrial trams, oil rigs, and the workers involved in menial tasks, going into creating something that we will use for a few seconds, maybe minutes, then discard.
All I see are people carrying out repetitive motions, human machines, workers whose jobs won't exist in 10 years once the artificial apparatus behind them has gotten good enough.
I appreciate where it's going, but even with it clocking at just 65 minutes, it takes too long to get there.
It feels like a few shorts munged together. It sometimes veers into kōjō-moe, gazing at the factories and their intricate arrangements. Other times it seems to feel for the workers, who keep breaking out bunches of spoons and stuffing them into plastic bags, as the machinery accumulates more and more clusters behind them. When spying shoppers at a market, enticed by a taste conveyed at the end of such a throwaway yet laboriously produced implement, it seems to wag a finger at how little heed they pay to the utensils themselves.
It never picks between any of these paths, but stumbles and wanders between them.
Any of these approaches could have carried a shorter, more disciplined documentary. Its current incarnation takes too long to get to the point, and by the time it gets there, it may have lost its audience in its meandering.