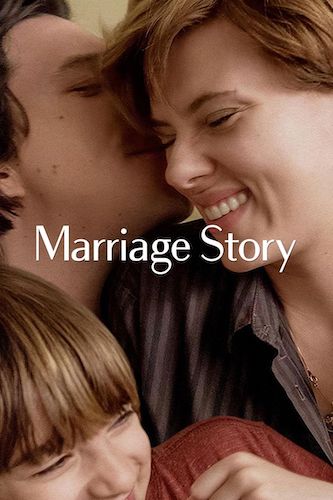 Gary Oldman was terrified of playing George Smiley in Tinker Tailor Soldier Spy. When pushed to talk about it, he said it was for the same reason that the part almost drove Sir Alec Guinness to a breakdown: it had no artifice, no flashiness, nowhere an actor could hide.
That should be the only thing going through your mind when watching Adam Driver and Scarlett Johansson in Noah Baumbach's harrowing Marriage Story. If Oldman was terrified of Smiley, he'd be paralyzed at the thought of Charlie and Nicole.
Anyone familiar with Baumbach's work (particularly The Squid and the Whale) should expect the endearing poster and positive title to be as related to the contents as Deadpool's Valentine's day ads were. Baumbach takes that assumption as his starting point, runs away with it, and vaults over any expectations of unpleasant, cringing moments you could have had.
No, this is not about the relationship, back when it worked. This is about how two people, having drifted apart, aiming to keep some distance, overcorrect and don't just push their former partner away, but punch and stab and maim the other every time they come close.
This is a couple whose stated wish is to resolve things in an amicable manner, without getting lawyers involved, who decide to go against their agreement and proceed to trample all over each other. They step, stomp, scream, mangle. We grimace and cringe and try to get out of the way.
And it's all on Driver and Johansson. Their parts as Charlie and Nicole allow no tics, no mannerisms, none of the easy outward markers that fit well in 10 second Oscar clips. They are just there, on screen, nothing but confused feelings swirling up and emotions lashing out, all frustration and resentment and pain.
It is still not the most uncomfortable relationship movie I've seen.
(Pipe down, In the Realm of the Senses fans).
It is a more straightforward relationship than that in Polanski's Bitter Moon, in a way. In Marriage Story, we know we enter at the point that enough threads have come undone, and our job is to watch the whole construction unravel. In Bitter Moon, we know from the start that things went south at some point, we just don't know when, and we have to keep waiting, watching the instability build, wondering if this is the nudge that will make the emotional card castle topple.
That does not make Marriage Story any easier to watch. There is a scene where things start uncomfortable, before getting tense, then increase in intensity, then keep running past the point you'd expect, a terrifying escalation, to horrendous extremes where you want to step in and beg them to stop, push each into separate corners, or wish that at least one of them would make it end by strangling and castrating the other, just to make it stop. But it doesn't, nowhere near as easily, not until they've gone well past the point they should, where Baumbach has made sure you are feeling as dejected and drained as they are.
All of it just the two of them, in a room, talking. With no artifice.
The supporting performances are impeccable as well, particularly Laura Dern as a carnivorous spider in red stilettos (with a personal agenda to boot). Everyone has you assigning blame. How much of this is the lawyers? How much her, given her own admissions of insecurity, her breaches of agreement, her apparent shallowness? How much him, given his actions, his dissatisfaction, his manufactured authenticity?
It doesn't matter. It's done. They've made their choices, paid their prices, and have to live with it.
Watching it, you breathe out. At least it's over.
#marriagestory #noahbaumbach #adamdriver #scarlettjohansson #drama